I was delighted to be invited by Peter Billingham, as a discussion guest, to take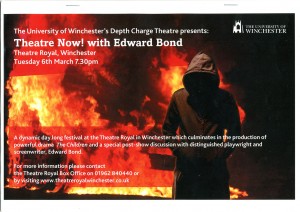 part in what was a fine day of debate, argument and insight; guests ranged from Tony Coult (who wrote an early and brilliant study of Edward's work, Methuen published it) and Sarah Brigham (of The Point Eastleigh, she continues to bring exciting work of international importance to the Southampton region, witness their recent hosting of Kane's CRAVE and Viripaev's ILLUSIONS,) and then the ever entertaining Aleks Sierz, writer of IN YER FACE and REWRITING THE NATION (the best of the 90's and 00's books I know.) Recognition has to go to Mark Courtice for co hosting this event and further extending the reach of his The Winchester Theatre Royal. The event ended with Edward's THE CHILDREN in an acurately directed (Peter Billingham) production that made it clear just how shamefully neglected Edward is. The after show discussion kicked off with that same old tedious debate of Edward and the violence in his work, yawn.
Anyway, he was as usual brilliant, well humoured, something his reputation fails to paint and one stand out comment (for after all I am a man who has spent most of his life a financial pacifist) – money is violence, geld ist gewalt! Edward Bond! – The great privilege of the evening was the chance to meet the man in person, to chat justice and mercy with him ("of course for me the contrast between mercy and justice isn't the point. In an unjust society mercy and compassion are needed desperately. But they are individual qualities. How could you "quantify" mercy and compassion in a legal document?" Edward Bond;) I got to buy him an orange juice, I got to embrace him and we reopened our habit of letter writing; well perhaps Edward, the task is now to think of ways of quantifying mercy! Onward, onward! Repair the chair.