FOUR DAYS ON DRAMATIC WRITING,  A WEEKEND DOING WHAT YOU DO IN  BERLIN, WHAT'S NOT TO LIKE ABOUT THAT?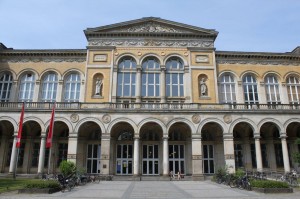 September 4th -4th 2014 & September 8th to 9th 2014,
Lecturers: John von Düffel, David Spencer
This comprehensive four day workshop guides you through a series of precisely patterned exercises that demonstrate the essential elements of the dramatist's craft with particular emphasis on the organised progression of emotional, imaginative and logical action commonly called structure. Once a shared vocabulary has been established the focus shifts to supportive critical feedback of your own idea in order to assemble and refine a detailed synopsis and accompanying scenes.
John and David have decades of experience in elite German, American, British and Austrian theatre training and performance institutions, this experience is combined with elegant sensitivity and extensive knowledge gained through their own struggles within the dramatic form.
The Drama Works is for all those, beginners or more experienced writers, with a serious interest in dramatic and performance text.
John and I have co ran the course for the last wo years:
John von Düffel, born in Göttingen, is one of the leading dramatists of German theatre, working as author and dramaturg for the major theatres such as the Thalia Theater Hamburg (2000-2009) and the Deutsches Theater Berlin since 2009. He is also professor for dramatic writing at the University of Arts in Berlin. He has adapted a number of novels for the stage, as well as contemporary texts.
www.johnvondueffel.de
500E, scholarships exist for those in economic hardship.
Deadline is July 15, but those considering scholarships should apply earlier; the process is simple:
More info at:
http://www.udk-berlin.de/sites/sommerkurse/content/kurse_2014
/darstellende_kunst/the_drama_works/index_ger.html
Testimonials from participants of the 2012 course can be read at  the site, you can also find them lower down this blog in the section dealing with UdK Courses from 2013 and 2012.