July the 18th to July the 23: "A Dramatist Toolkit" David Spencer, UK and John von Dueffel, UdK – BRD.
Why not come to the one of the world's most exciting cities and participate in this fine course; those who book by the first week of June secure their place.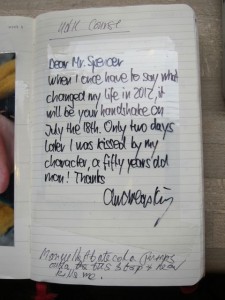 The course is in English but we both understand German;
I'm going to let the two following participants from last year; Denise Keane and Fiona Doyle speak for the course.
Testimonial for David: Denise Keane (May 2013 )
Von Dueffel and Spencer's  Playwright's Toolbox  Summer School  Course, University of Arts, Berlin
This is a challenging, intense and uncompromising course in playwriting craft , delivered with precision, compassion, fierce intelligence and humour by fearless British playwright David Spencer.   Combining techniques to tackle structure and pace with a compelling  sensitivity to the creation of meaning through rhythm , David's approach makes for a moving, enlightening and unforgettable experience that I would highly recommend for people who are willing to  'go there' with their writing.   After completing the course, and on David's recommendation, I won a year's attachment to the Traverse
Theatre ( 2013), Scotland.
Testimonial (Fiona Doyle)
In July 2012, I was lucky enough to find myself on a short but intensive dramatic writing course at the University of the Arts, Berlin. It was tutored by David Spencer. What I came away with was a whole new level of understanding about playwriting which continues to influence my work today. David, two-time winner of the Verity Bargate award, is a great writer. But he's also a great teacher. His knowledge of technical aspects like plot and structure is invaluable, and his insights about what it takes to write a great play are shared openly and unselfishly with his students. Since my time in Berlin, I've had a number of short plays produced and I was recently asked to write for Miniaturists 40 at the Arcola Theatre. (Miniaturists are a reputable and long-established group of professional playwrights producing regular writer-led events in London). When it comes to the craft of writing, David is the ultimate craftsman and anybody wanting to write a play would benefit greatly from spending some time in his company.
Fiona now has a seed commission from the Play for the Nation's Youth group - that includes the Joint Stock Company, one of England's best known New Writing producers.
For details, payment, the setting, a brief description, follow the link to this exciting range of offers:      
www.udk-berlin.de/summer-courses